Join Us For Early & Traditional Christmas Dinner from my Novel, The Western Light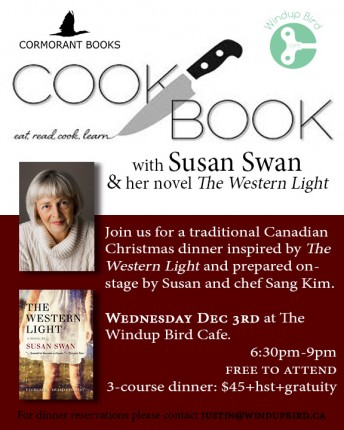 OK, I'm cooking Christmas dinner early with Sang Kim for about 40 special guests at the Wind Up Cafe. The meal is based on Big Louie's traditional Christmas dinner in my novel The Western Light. Big Louie is Mouse's grandmother and she tops things off by cooling sparkling Burgundy in the snow.
So if you want to get Christmas over with, or if you want to bone up on how to make perfect hard sauce and unlumpy Christmas gravy, be sure to join Sang and I as we cook up our feast. We talk, you see, as we cook, and you watch and eat. The price for the meal is $45 and the time is six thirty on Dec 3. There is only space for 42 guests so sign up right now if you're interested and let us sock some Christmas cheer your way.