Why We Should Stop Worrying about Taxes and Figure Out the Best Way to Spend Them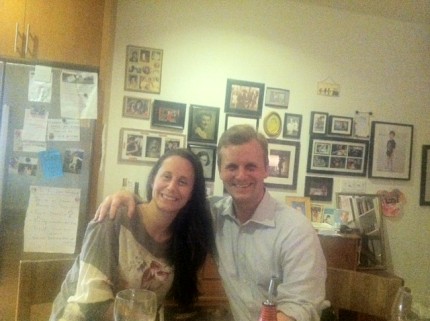 I was struck by something Joe Cressy said last night at an informal gathering at the house of my friends, architect Robert Chang and writer Karen Connelly. Joe is pictured above with his wife Nina. He is a candidate for Ward 20 in our city election and last night he told us how he was being portrayed in some of the media as "a tax and spend" guy–as if he was going into politics to empty our pockets until we don't have a sou left to our names.
Then he laughed. And that's what's great about Joe Cressy. He has the confidence to see how bogus the tax and spend criticism is.
Taxes are inevitable, he pointed out. We need them for our schools and our roads and transit system and for child care and clean air and water. We can't avoid taxes so the important issue is how wisely we spend them. Government spending is not a social evil, in other words. It's how we take care of ourselves and our communities. It is, in fact, the foundation of democracy, and we need to spend our tax money well so a city like Toronto can be a creative, prosperous place to live.
I like someone who says the truth when it needs to be said. For too long, it feels like Torontonians (myself included) have dwelt inside a bubble of magical thinking, expecting our roads and schools to be good and not wanting to pay for the things that make them that way. Well, time to grow up, huh? Let's stop being swayed by accusations of government over spending and examine how it can be done better.
The other thing I liked about Joe Cressy's views on Toronto is his belief in our waterfront. Right now the number one thing tourists come to see in Toronto is the Eaton Centre. Number two is our waterfront. "Wouldn't it be great," Joe asked. "If our waterfront was number one?"
Yes, wouldn't it? And that means not expanding the island airport so planes dominate our harbour. Joe says the Billy Bishop expansion plans will harm the wonderful rebuilding of the waterfront that is going on right now. More planes will make it harder than it already is to enjoy the new promenades and civic spaces.
As you can see, Joe is also down to earth. Intelligent, sincere and honest. Maybe that's the definition of authenticity.If you want to read more of his views see his recent article in Now, Progressive is not a four-letter word http://www.nowtoronto.com/news/story.cfm?content=199716