The Uselessness of Drone Writing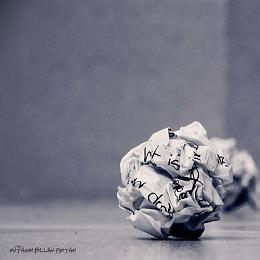 I solved the problem of killing off an old boyfriend in my revision of my next novel, The Western Light. He is only half-dead. By that I mean I haven't changed Little Louie's ex-lover as dramatically as I was thinking about doing. He just has some new traits, an interest in socialism and a job running a trade union in Windsor, and these characteristics will be a good foil for Little Louie's mother, Big Louie, a matriarch who runs an oil patch in Petrolia, Ontario. So you see, instead of a full-fledged revolutionary, my minor but still important character ends up being a Canadian new democrat, of all things.
Enriching characters instead of killing them often happens when I'm revising a novel. At first, I think I must do something drastic to the character so they are unrecognizable and then I realize that I'm dealing with shades, not black and white brush strokes. After all, I'm a Gemini and I tend to swing to two extremes before I settle on the right solution. But this morning I'm thinking of another problem that goes with rewriting a novel: going on automatic pilot. Or, let me put it this way, getting lulled into the uselessness of drone writing.
To go back to a piece of writing it's imperative that you, the writer, see it in a fresh way. If you're lucky, like me and you have a good editor (or mentor) they will say things that open up the scene you are writing instead of closing you down. They will ask you questions like … can you tell me more about character X, or what does the mother's boyfriend think about the mother's daughter? But if you're not lucky, you may tend to do what I do when I'm feeling insecure–polish the first twenty (substitute any number here) pages relentlessly and feel like I've been working hard. Polishing, or putting on the gloss, as Jonathon Franzen puts it, is a good thing to do at the very end of a book but not before.
In fact, drone writing, or ceaseless re-writing of the same passages is usually about the writer trying to control the creative process that can feel open-ended and scary. One of Albert Camus' characters, the man who continuously rewrote the first sentence of a novel, probably rewrote the sentence out of fear. He was nervous, in other words, of plunging in without trying to control the anxiety involved in creating a book.
Surrendering to the process of writing a novel and letting it take you somewhere new is unnerving, especially if you have a Presbyterian background like I do, and you're determined to more or less write what you set out to write. So before I know it I can gallop off and revise something I've revised twenty times before without really looking closely at the emotional sub-text of my scene. At this stage I can no longer see hear or feel what I'm writing about and I don't know that I've lost my emotional connection to the material either. And maybe I don't want to know it because I'm more interested in satisfying my anxiety than writing at a deeper emotional level. But the truth is I'm wasting my time. I should sit back and re-examine thoughtfully what is happening with my characters in the passage I'm revising.
If I'm smart, I might ask Joyce Carol Oates' important question, is this passage as good as it can be? If not, why? If I sit and listen long enough, the answer will come, and then I will put aside my drone writing, and get to work.