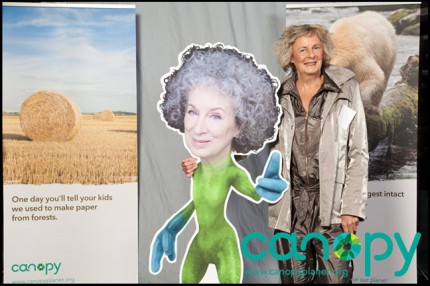 On Saturday, I moderated an International Festival of Authors round table on the family dynamic with three US and Canadian novelists. There were four authors at the round table, including myself: US writer Jennifer Haigh, whose novel Faith describes what happens to the Irish Catholic MGanns when the priest in their family is accused of molesting a child; Canadian Alexi Zentner who wrote Touch, a magic surrealist novel about three generations of a Catholic family in a BC boom to bust frontier town (Touch was recently nominated for a Canadian Governor General's Award); and Canadian poet and novelist Sina Queryas, who wrote the less traditional but equally compelling, Autobiography of a Childhood. I liked the question asked by a child psychiatrist in the audience. He wanted to know why there seemed to be a new trend of writing about individuals in families instead of novels dealing with individuals and their actualization.
I suggested that Canadians already saw themselves as individuals in a context or group, and maybe there was more of that going around because the world was getting smaller.
Jennifer Haigh said she thought it was because more women were writing novels now and women have traditionally been busy with family. Sina Queryas, who is also a poet, thought it didn't have so much to do with family but said that there was just more interest in the polyvocal novel–a novel with many voices, which was the case with her novel about a family who is losing a daughter to cancer. Then Alexi Zentner said he agreed with the female writer who complained recently that an American woman novelist who wrote a book about a family would never be called "America's greatest living writer" (the term applied to Jonathon Franzen). Alexi said it was time it give women writers equal credit for writing about family instead of dismissing their work as domestic novels.
He drew grateful thanks from his female panelists on that one.
Zentner also pointed out that books no longer need wars in them to be considered masterpieces and he was glad that the times have changed. Here are more paraphrased quotes of the day:
When I cross the border, I feel as if a hundred people have stepped off my shoulders. Sina Queryas
Writing around the silence that covers up a family secret is sometimes a necessary digression that distracts you and helps you digest the experience. Sina Queryas.
The duties and obligations of men and women in families aren't less or more in the case of the genders but just take a different shape. Jennifer Haigh
Death is a good way to examine how we love someone. Alexi Zentner
The family is a bear trap. You can choose to cut off your arm or enjoy the pain. Alexi Zentner
The panelists were all smart and good writers. I found myself lost in the three enthralling but very different worlds of their novels. You can't beat that for a recommendation, can you?