What Casanova Told Me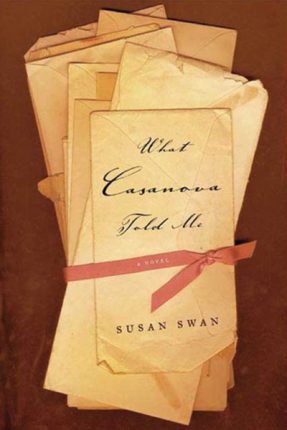 A dazzlingly imagined novel that embraces two centuries, two women, a long-lost Journal and the mystery behind the legendary Casanova's last great love.
It's 1797, and an aging Casanova has returned to Venice in disguise to elude the authorities. There he meets Asked For Adams, the niece of American President John Adams, who is accompanying her father on a trade mission to the city just as Napoleon's army invades, throwing everything into flux. Casanova convinces Asked For to abandon her future the wife of a Yankee farmer and set out with him on a dangerous adventure through post-Byzantine Greece to Istanbul, which she records in intimate detail in her Journal-until the travel diary ends abruptly and mysteriously.
Two hundred years later the Journal comes into the possession of Luce Adams, Asked For's 21st-century descendant, awkward, shy, and grieving her mother's death. En route to her mother's memorial service in Crete, accompanied by her mother's lover, and entrusted with delivering the precious letters between her ancestor and Casanova to the Venetian library, she becomes enmeshed in unraveling their story. And as the journeys of the two women come together, Luce finds her own way of moving through the world, and Asked For discovers how vulnerable the great Casanova is-a man whose appetite for life and generous spirit ignites possibilities in every person he touches.
Like Possession by A.S. Byatt, What Casanova Told Me illustrates the mysterious influence of the past on the present and celebrates the unexpected in life and love, the lure of pleasure and freedom, and the transforming lessons of travel.
What Casanova Told Me was a finalist for the 2004 Canada Caribbean Commonwealth Regional Prize and picked as one of The Globe and Mail's top books of 2004, as well as selected as one of top ten books of the year by Canada's Sun-Times, the Calgary Herald and Toronto's NOW magazine. The December edition of Macleans, Canada's national magazine, named the novel's protagonist Asked For Adams as one of the five best fictional characters for 2004 and said she was "the utterly charming core of Susan Swan's parallel-track historical novel, What Casanova Told Me."
Alberto Manguel, critic and author of The History of Reading, says:
"Susan Swan has given us a great romantic novel. What Casanova Told Me is a graceful and literate meditation on the uneasy relationship between the New ?World and the Old, on the gossip of history, and on the nature of love. This is a sentimental education for our oblivious times."